Point of Care Ultrasound: Confidently, Quickly Put Real-Time Information in Your Hands
Calendar & Register
In a single weekend, you'll gain authority with the instrument as you apply it to the FAST & RUSH exam protocols.  Learn the proper technique to ensure one-stick ultrasound-guided vascular access.  This is far more in-depth than the training your colleagues got during their Residency and your post Class support continues in perpetuity for free.
The most in-depth hands-on training for POC ultrasound possible in as brief a time.  Class size is microscopic and held at the bedside, with careful supportive guidance for any specialty or experience level.  Saturday evening, the on-site Scan Lab is accessible for your independent practice, on yourself or class peers.  Your tactile experience alone will give you a vast head-start when you return, and comprehensive course materials will guide you through all the elements of acoustic physics and instrumentation.  The Point of Care Ultrasound Academy is ready to credential you in multiple procedures, each of which is now reimbursable.  Your real savings will come in the form of time saved, more immediate & confident decision making, and improved production & outcomes.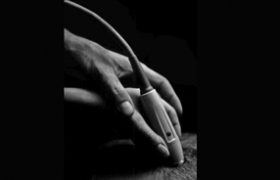 Saturday   We start immediately with optimal tactile technique to maximize manual dexterity and minimize ergonomic stress.  We initiate the FAST & RUSH protocols to systematize the exam for quality control and reproducibility.  You'll master the three essential controls for image optimization that will help you confidently identify, avoid, and control image artifacts.  Throughout, we'll lay down and practice the systematic approach to image analysis and apply the current terminology to communicate it.  By day's end, we combine color, power, and spectral Doppler to analyze blood flow and ultimately apply it to physiologic assessment and sonolocation for vascular access.
Saturday Evening    Your optional assignment is to study chapters 1 & 3 in your course materials.  We encourage your independent practice in the on-site scan lab, on yourself or with your class peers.
Sunday    We'll continue your hands-on practice with the FAST/RUSH protocols and add the rapid transthoracic echocardiogram approach for the PLAX and PSAX views.  You'll learn how to optimize Doppler for every different site and master the effective clinical triage for valvular regurgitation and estimation of PA pressure.  Further practice is available for ultrasound-guided vascular access.  We'll expand and expound on the use of ultrasound in acute care not covered in other courses.  And, before you leave we'll make certain you have access to post-class resources for reference and updates.  
After your return, we'll continue to stand with you in perpetuity for comprehensive support.
Who Will Benefit
ER & Hospitalist Physicians and all Allied Health Care Providers, including Paramedics
This hands-on POCUS training gives professionals from all specialties skills to broaden and deepen talents and open doors to lifelong opportunities.  These include Nurse Practitioners, PA's Critical Care Nurses, and Respiratory Therapists.  Paramedics will find this multidimensional training of powerful use in expanding your on-scene/transport skills without extending your on-scene time.  
This Course will not confer the requisite 12 months of clinical experience required to apply for credentialing,  but it will give you a particular edge at the start, when your peers ask, "Can (or did) you take a look at this with the ultrasound?."
[POCUS Credentialing]
Anesthesiologists & PACU Team: POC Ultrasound 
This hands-on cardiopulmonary ultrasound training is far deeper than your Residency ultrasound training and it's deeply focused on the information you need to answer immediate, specific questions in the pre- & post-op recovery setting. 
In the time between issuing a stat order at 5 pm and waiting for the report, you'll have the information you need immediately to take or defer action.  Your care will rise to its highest, as will patient outcome metrics and efficiency.
 POC Echo and Lung Assessment credentialing is now offered by the POC Ultrasound Credentialing Academy and is required for reimbursement.  This class will give you all the tools and ongoing resources you'll need to complete both parts.
Primary Care/Internal Medicine Providers, including Endocrinologists: Targeted POC Ultrasound Screening 
You can order outpatient screening ultrasound and wait for the report or confidently resolve the issue and substantiate your decision quickly at the first patient encounter.  The time required is inconsequential and reimbursement is now approved for most procedures.  The Point of Care Ultrasound Credentialing Academy has multiple credentials waiting for you and this course will prepare you for all of them.   High-performance Pocket Imaging/Doppler instruments available now at the most reasonable cost have opened the door to help you expedite deepen your service.

Veterinary Medicine & POC Ultrasound
Hands-on veterinary ultrasound training runs on the same rails as humans and the low-cost/high-performance equipment now in the marketplace allows you to leverage both to enhance your Practice.  This Class is the shortest and most effective path to your goal and our post-Class support ensures your future confidence and competence.  Your credentialing by the POC Ultrasound Certification Academy (for humans) will enhance the depth of your care and the value of your Practice.
Research & Medical Ultrasound Device Professionals
No one in the field of medicine today has the depth and breadth of experience with ultrasound training for the Medical Device Industry as us.  Over many years we've worked closely with nearly all ultrasound device manufacturers to steer and refine their products for clinical focus.  We're your most cost and practice-effective resource for training your client base; we know how to resolve the issues your clients will face in their first months of use.  Whether it's one-to-one in our live classes or for groups on-site at their facility, our decades of experience will build you immediate savings and brand equity.
We've also consulted with some of the largest Research Center on earth to help structure their work.  As a Research Scientist, you'll be able to identify and measure virtually any element of cardiovascular function.  If you're a Medical Device Professional- whether in-house or in the field, you'll be better able to build, market, and sell your instrument with a unique competitive edge in the Service of many.
Are You New to Health Care?
Our ultrasound training focus is to take the practicing clinician and escort her or him to vastly greater hands-on ultrasound protocol and analysis skills in record time.
If you're entering healthcare for the first time, you should consider your long-term goals and opportunities. 
In North America, you can apply to any of hundreds of accredited schools (18+ months duration) and upon graduation immediately undertake your formal credentialing exam.
You'll find the US Government's most authoritative and current overview of the ultrasound career field here.
Topics
The class is strictly small so we can spend time on the topics we need to cover and all the ones you want to discuss:
Putting together the complete echo protocol: nothing left behind
The one simple thing that will take three years off your learning curve and add a decade to your career.
The secret to quickly getting every standard echo view without having to think.
A simple six-step method to understand spectral and color Doppler completely.
Wall motion and thickening: what really matters and when it counts most.
LV function measurements completely explained and clinically connected.
Everything the physician needs to know about the right ventricle and how to find it.
Valvular stenosis and regurgitation: uncovering the likely mechanism and determining its significance.  
The most accurate means to evaluate valvular regurgitation that complements the cath lab's record.
The earliest clues to subjectively detect and/or measure pulmonary hypertension.
How the aortic valve can lead to renal failure: the illustrated story behind interactive cardiac dysfunction.
The four things to assess below the diaphragm in every cardiac patient.
Techniques to overcome body habitus and air: the secrets you might not have even thought of.
How to analyze and document every pathologic finding: taking the right steps, using the right words.
How to think your way through any Registry Exam question you might ever face.
Next steps: How to reenter your workplace and maximize your next six months in the Field.
Objectives
Our approach is totally focused on the patient diagnosis.  We are deeply familiar with virtually every ultrasound machine and the manufacturer's rationale behind its design, features, and functions.  No faculty members have any commercial interests or participation that might influence course content.  
There is no formal test in this class: we evaluate you continuously and offer positive feedback and gentle corrections throughout.  Upon completion of this activity, and through continued review, you should be able to:
Follow a systematic protocol for assessment of each of the following:

peri/intrahepatic and splenic fluid
tamponade & differentiation of hemopericardium
localization of pneumothorax, pleural fluid, and/or consolidation
global and regional myocardial function
valvular stenosis & regurgitation
normal vs. elevated CVP
estimation of PA systolic pressure
hepatic and portal venous hypertension
biliary lithiasis and CBD obstruction
renal assessment: hydronephrosis, lithiasis, and ureteral patency
acute extracranial carotid occlusion
Large vessel DVT
venous and arterial vascular access

Demonstrate the optimal tactile and ergonomic probe grasp to maximize manual dexterity and minimize MSK injury.
Apply a full-visual-field approach to tap the subconscious power of conspicuity to identify soft tissue and motion abnormalities immediately.
Identify, resolve, and avoid ultrasound artifacts and verify all findings using a tri-planar protocol.
Optimize image and Doppler controls unique to any organ or site.
Perform a visual inspection of the machine to identify and potential electrical- or bio-hazard.
Tuition Investment
 $900.  Weekend, 9 am-4 pm, adjourn at 3 pm on Sunday.  The on-site Scan Lab is accessible Saturday evening for your independent practice on yourself or in-class peers.  Your tuition includes your complete learning experience, printed course materials, and post-conference support in perpetuity.  Breakfast and light lunch is provided.
CME 
Your class experience is predominantly hands-on and content is tailored to both your specialty and experience, hour-to-hour.  In this live interactive process, nothing is formulaic and fixed, as specified by the many varied CME accreditation bodies.  Thus, we do not award formal Credit Hours, though your individualized experience here will advance your clinical skills dramatically.  Presently, ultrasound credentialing prerequisites require Clinical Experience Hours before application for an exam.  Ongoing CME is now specific to your registry specialty after you're credentialed.   To this end, we'll always direct you to the most appropriate free and low-cost traditional CME credit activities available online.
Download Resources Now
Download our complete free library of anatomy posters and hands-on ultrasound data worksheets here.
Download Documents & Worksheets