The Most Systematic Hands-On Abdominal Ultrasound Protocols You'll Ever Need
Every Physician and Sonographer performing hands-on abdominal ultrasound scanning learned a different protocol. Over 40+ years of bedside practice and teaching have given us the wisdom we'll share so you can begin or become more competent, confident, and authoritative at the bedside in any circumstance.
Three days together will change your approach to hands-on abdominal ultrasound scanning forever. When you understand the elements of abstract spatial reasoning and critical conspicuity (and you will), your clinical contribution and opportunity will climb immediately.
In the first hour, we'll chart the complete abdominal imaging protocol, using the simplest of relational anatomy approaches, that miss nothing.
We'll show you the often secret techniques to master every machine control for imaging and Doppler and how to verify the accuracy of any findings.
No matter whether you're new to general sonography or are confounded by the many conflicting approaches to it, we'll meet you where you are and escort you to an uncommon level of competence on which you'll build confidence and gain respect for life.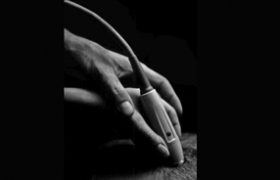 Day 1   Sagittal and transverse planes: You learn to locate the abdominal aorta and identify its segments as well as the celiac, hepatic/splenic, SMA, and renal arteries.  Measure each accurately for evidence of aneurysm.  Differentiate the aorta from the IVC; demonstrate respiratory and Valsalva variation responses.  Locate and identify the diaphragm, the right and left lobes of the liver, and the portal and hepatic veins in both planes; identify the CBD and gallbladder.  Identify the relationship of the right kidney with the liver.  Using these landmarks, survey the liver in longitudinal and transverse views and record a six-segment record of it in both longitudinal and transverse planes.  Identify the splenic vein and portosplenic confluence; use it to identify the pancreatic bed and document the pancreas in transverse and longitudinal views in each of its three segments.  Survey and document the spleen.
Evening    On-site Scan Lab accessible for your independent practice on yourself and/or class peers.  Optional assignment: Review and draft protocol.  Review Course Materials sections: Vessels, Liver, Biliary System, Pancreas.
Day 2    You learn the difference between LV and RV structure and function and define each segment and its coronary blood supply.   We'll assess the valves with color and spectral Doppler, applying all measurements.
Evening   Recommended practice in the on-site-scan lab on full protocol with emphasis on the kidneys and renal doppler assessment.    
Day 3   Execution of the full protocol.  Emphasis on including pertinent vascular landmarks in each image to verify the anatomic section.  Reinforcement of 
Throughout the week, the on-site Scan Lab stays open around the clock for your independent practice, on yourself or class peers.  Every step, every protocol, every concept, and more is laid out and explained in greater detail in your 200-page course notebook, the information you'll refer to forever.  When you return home, you'll have our personal support in perpetuity for free.
Who Will Benefit
Allied Health Care Providers
This hands-on general abdominal ultrasound training gives professionals from all specialties to broaden and deepen their talents and open doors to lifelong opportunities. These include Radiography and Respiratory Therapy Technologists, Traditional and Advanced-Practice Nurses, PA's, and Paramedics. Foreign Physicians who find it impractical to re-board in the USA or Canada have found this a valuable path to expressing their expertise.
This Course will not confer the requisite 12 months of clinical experience required to apply for credentialing, but it will give you a particular edge at the start, when your potential Director says, "Now let me see you scan…."
[Sonographer Credentialing]
ER & Critical Care Providers: POC Ultrasound
This POCUS training is far deeper than the training you got in Residency. You'll be able to target and evaluate immediately the upper and lower abdominal issues as you decide whether to irradiate the patient with CT, then wait for the results. As time is your currency, you'll save plenty and also take the next steps to get credentialed for reimbursement through the Point of Care Ultrasound Credentialing Agency. Our content will over-prepare you for the several pertinent exam offerings and our perpetual support will ensure your skills stick with you for life.
Anesthesiologists & PACU Team: POC Ultrasound
This echo training is far deeper than your Residency ultrasound training. A targeted pre-op cardiac ultrasound survey by your own hands can powerfully influence your approach to your intra-operative management. And in the PACU, you and your Nursing Team will take ever-demanding cardiopulmonary care to its highest and most efficient outcome metrics. POC Ultrasound has come full circle with targeted-exam reimbursement and low-cost, high-performance pocket ultrasound. Prepare everyone fully for the POC Ultrasound Credentialing Academy's pathways.
Sonography Students & Graduates:
Expand & Expound Your Ultrasound Training
Students and Graduates of formal General Ultrasound Cardio-Vascular programs will find far more job opportunities with general sonography hands-on ultrasound training on your resume. Many of our colleagues in this Class undertake it to build their foundation and/or expand upon it. Regardless of prior experience, we'll be able to take you farther and deeper to prepare you for your future practice and credentialing. Your investment will pay out substantially when your potential Director says, "Let me see you scan."
Primary Care, Internal Medicine, & Endocrinology Providers: POC Ultrasound
Targeted upper abdominal hands-on ultrasound training lies in your future and is already a component of the Point of Care Ultrasound Credentialing Academy paths, linked to reimbursement. High-performance Pocket Imaging/Doppler instruments available now at reasonable cost have opened the door to help you deepen and expedite your patient care decisions in triage and surveillance. You'll soon be able to answer questions on the spot, saving time, and generating your own procedure-based revenue. We'll ensure you do it competently and confidently and our post Class support will stand beside you forever.
Veterinary Medicine & POC Ultrasound
Veterinary hands-on ultrasound training runs on the same rails as humans and the low-cost/high-performance equipment now in the marketplace allows you to leverage both to enhance your Practice. This Class is the shortest and most effective path to your goal and our post-Class support ensures your future confidence and competence. Your credentialing by the POC Ultrasound Certification Academy (for humans) will enhance the depth of your care and the value of your Practice.
Research & Medical Ultrasound Device Professionals
No one in the field of medicine today has the depth and breadth of experience with ultrasound training for the Medical Device Industry as us. Over many years we've worked closely with nearly all ultrasound device manufacturers to steer and refine their products for clinical focus. We've also consulted with some of the largest Research Center on earth to help structure their work. As a Research Scientist, you'll be able to identify and measure virtually any element of abdominal organ function. If you're a Medical Device Professional- whether in-house or in the field, you'll be better able to build, market, and sell your instrument with a unique competitive edge in the Service of many.
Are You New to Health Care?
Our ultrasound training focus is to take the practicing clinician and escort her or him to vastly greater hands-on ultrasound protocol and analysis skills in record time.
If you're entering healthcare for the first time, you should consider your long-term goals and opportunities.
In North America, you can apply to any of hundreds of accredited schools (18+ months duration) and upon graduation immediately undertake your formal credentialing exam.
You'll find the US Government's most authoritative and current overview of the ultrasound career field here.
Topics
The class is strictly small so we can spend time on the topics we need to cover and all the ones you want to discuss:Systematizing the upper abdominal exam protocolVascular structure in health and disease: from genetics to old age.
Ergonomic probe grasp and tactile manipulation techniques that will take three years off your learning curve and remarkably deepen your career.
Thinking geometrically: intuitive understanding of abstract spatial reasoning through three-dimensional anatomy.
Making use of the vascular system to navigate to and identify any organ or substructure in the abdomen.
How to document each organ systematically, using color and spectral Doppler here indicated.
A systematic survey of the thyroid, parathyroid, parotid, and submandibular glands: the importance of a complete survey.
Recognizing, avoiding, and controlling artifacts: how to prove and communicate all findings confidently.
Correlating echogenicity features with benign and suspected malignant states: the systematic method of biplanar documentation, measurement, and documentation of full-range echogenicity.
The contribution of shear wave elastography on select disease states.
Complete soft tissue and physiologic blood flow assessment of the kidney.
Survey of the urinary bladder and verification of ureteral latency by color Doppler.
Evaluation of the acute appendix using image and color/power Doppler analysis
Building a mental approach to the systematic critical analysis of any soft tissue image finding.
The most effective paradigm to prepare for the Abdominal Ultrasound Credentialing Exam.
Connecting to long-term resources for reference and continuing educational support.
Objectives
Our approach is totally focused on the patient diagnosis. We are deeply familiar with virtually every ultrasound machine and the manufacturer's rationale behind its design, features, and functions. No faculty members have any commercial interests or participation that might influence course content.
There is no formal test in this class: we evaluate you continuously and offer positive feedback and gentle corrections throughout. Upon completion of this activity, and through continued review, you should be able to inspect the machine and immediate environment to assure patient safety.
Demonstrate how to properly set the display monitor for maximum dynamic range output, regardless of brand.
Demonstrate proper ergonomics in posture, tactile grasp, and manipulation throughout the ultrasound exam.
Complete a systematic survey of the entire upper abdomen, documenting all pertinent vasculature within each image.
Demonstrate pleural fluid from ascites, localizing each.
Properly judge the quality of acquired data and communicate the basis for any limitations.
State the normal size range of the thyroid, aorta, liver, spleen, kidneys, CBD, gallbladder, and urinary bladder.
Define the standard terms of locality, echogenicity, and border definition; apply them to the normal vs. suspected pathophysiology underlying them.
Demonstrate optimal use of color/power and spectral Doppler in assessment of intrahepatic, splenic, visceral arterial, and renal blood flow.
Make full use of color Doppler in the elucidation of renal lithiasis.
Describe the different protocols for and the basis of each in the assessment of renal artery stenosis and failure.
Survey the urinary bladder and measure volume, verify ureteral latency, and inspect the lower pelvic floor for extravasated fluid.
Conduct a thorough survey of the thyroid and parathyroid glands, including the submandibular and maxillary glands.
Tuition Investment
$2000 Three days, 9 am-4 pm, Adjourn at 3 pm on last day. Scan Lab open 24 hours for independent practice. Your tuition includes your complete learning experience, printed course materials, and post-conference support in perpetuity. Breakfast and light lunch is provided.
CME
Your class experience is predominantly hands-on and content is tailored to both your specialty and experience, hour-to-hour. In this live interactive process, nothing is formulaic and fixed, as specified by the many varied CME accreditation bodies. Thus, we do not award formal Credit Hours, though your individualized experience here will advance your clinical skills dramatically. Presently, ultrasound credentialing prerequisites require Clinical Experience Hours before application for an exam. Ongoing CME is now specific to your registry specialty after you're credentialed. To this end, we'll always direct you to the most appropriate free and low-cost traditional CME credit activities available online.
Download Resources Now
Download our complete free library of anatomy posters and hands-on ultrasound data worksheets here.