Master Every Protocol You'll Need and Know What You See
Dates & Register
Total Immersion: This is the approach we'll take from the start in this totally hands-on MSK ultrasound Class.  No matter whether you're new to ultrasound or new only to musculoskeletal imaging and Doppler, you'll set a solid foundation for MSK that will last for life.
We'll follow the AIUM Standard Protocol for MSK Imaging to help you properly evaluate every joint and access target areas for interventional procedures.  You;ll learn how to optimize the image and Doppler, recognize and overcome artifacts, and systematically differntiate normal from suspected abnormal findings.
Unlike most courses, you'll have access during the first evening to practice independently on yourself and/or in-class peers.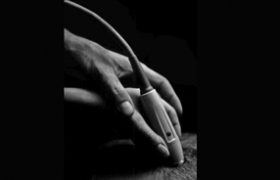 Class is held on a Fri-Sat or Sat-Sun weekend schedule, depending on dates
Day 1   We'll begin with a discussion of your experience, learning style and goals and from there immediately impart the proper tactile and ergonomic approach to all protocols.  At every point, we'll discuss machine controls to optimize image and Doppler findings.  We'll practice the specific protocols for dynamic evaluation of the Shoulder, Elbow, Wrist and Hand, and in the afternoon examine the Hip (with discussion techniques specific to the native and prosthetic joint), Knee (native & prosthetic), able and foot.
Evening  Your optional assignment will be continued independent practice in the on-site scan lab, on yourself and/or in-class peers.  Review your notes for questions pertaining to specific protocols.   
Day 2    We'll begin with a discussion of you questions and continue practice on the protocols.  We'll impart the technique to sonolocate peripheral nerves and how to verify accurate injectate placement with Doppler.  Through case examples we'll build the process to systematically evaluate soft tissue masses and describe them using standardized terminology.
Before you depart, we'll provide you with the resources to expand your skills and the mindset to approach your credentialing examination in MSK Sonography.  And when you return home, you'll have our personal support in perpetuity for free.
Who Will Benefit
All Health Care Providers
MSK Ultrasound embraces clinicians from a wide range of backgrounds and ultrasound experience.  The MSK Ultrasound Practitioner/Sonographer must have a complete working knowledge of bone and soft tissue anatomy in all joints, plus the ability to identify each component by ultrasound in multiple views.  This class assumes you are familiar with relational anatomy but have no or limited background in ultrasound imaging.
The Class will rapidly build a systematic, nearly algorithmic approach to the careful evaluation and documentation of MSK structures.  Even experienced sonographers will find the new protocols a thorough, time-saving approach to a complete exam.
Research & Medical Ultrasound Device Professionals
No one in the field of medicine today has the depth and breadth of experience with ultrasound training for the Medical Device Industry as us.  Over many years we've worked closely with nearly all ultrasound device manufacturers to steer and refine their products for clinical focus.  We've also consulted with some of the largest Research Center on earth to help structure their work.  As a Research Scientist, you'll be able to identify and measure virtually any element of cardiovascular function.  If you're a Medical Device Professional- whether in-house or in the field, you'll be better able to build, market, and sell your instrument with a unique competitive edge in the Service of many.
Are You New to Health Care?
Our hands-on ultrasound training focus is to take the practicing clinician and escort her or him to vastly greater hands-on ultrasound protocol and analysis skills in record time.
If you're entering healthcare for the first time, you should consider your long-term goals and opportunities.  In North America you can apply to any of hundreds of accredited schools (18+ months duration) and upon graduation immediately undertake your formal credentialing exam.

You'll find the US Government's most authoritative and current overview of the ultrasound career field here.
Objectives
This Class is conducted independently of any commercial or institutional grant, industry support, or sponsorship.  No faculty members have any commercial interests or participation that might influence its content.  Upon completion of this activity and with continued practice, you should be able to:
Apply a systematic protocol for evaluation of each extremity joint, optimizing image quality through proper machine controls.
Identify artifacts and apply techniques to minimize them.
Document and discuss findings using standardized nomenclature and terms.
Identify, target, and verify intracapsular spaces for injection.
Demonstrate a process to inspect the machine and patient environment for safety and apply proper body ergonomics during the exam.
Tuition Investment
$900.  Two days (Friday-Saturday or Saturday-Sunday), 9 am-4 pm.  The on-site Scan Lab is accessible the evening of the first day for independent practice on yourself or your in-class peers.  Your tuition includes your complete learning experience, printed course materials, and post-conference support in perpetuity.  Breakfast and light lunch provided.
CME
Your Class experience is predominantly hands-on and content is tailored to both your specialty and experience, hour-to-hour.  In this live interactive process, nothing is formulaic and fixed, as specified by the many varied CME accreditation bodies.  Thus, we do not award formal Credit Hours, though your individualized experience here will advance your clinical skills dramatically.  Presently, ultrasound credentialing requires Clinical Experience Hours prior to application for exam.  Ongoing CME is now specific to your registry specialty after you're credentialed.   To this end, we'll always direct you to the most appropriate free and low-cost traditional CME credit activities available online.
Download Resources Now
Download our complete free library of anatomy posters and hands-on ultrasound data worksheets here.
Download Documents & Worksheets